Abbiamo visto l'overview generale della piattaforma, abbiamo visto in dettaglio il client, ed ora è il momento del server di Visual Studio ALM: Team Foundation Server.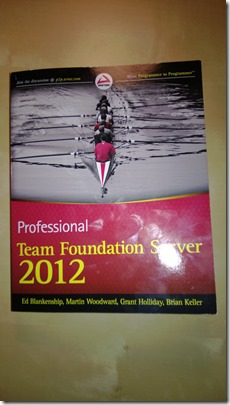 Questo libro è considerato 'la Bibbia' per chiunque lavori con Team Foundation Server. Copre in dettaglio tutto quello che si deve sapere e che si dovrebbe sapere.
Perchè dico ciò? "deve" e  "dovrebbe"?
La ragione è molto semplice: il libro non p solo un compendio di documentazione, tutorial, etc. ma utilizza l'esperienza diretta dal campo. Quindi gli autori (Ed Blankenship – Program Manager for Test and Lab Management, Martin Woodward – Program Manager for Team Foundation Server cross-platform tools, Grant Holliday – Senior Premier Field Engineer and Brian Keller – Principal Technical Evangelist for Visual Studio ALM) hanno condiviso il loro know-how frutto di anni di esperienza, in modo da fornire il libro più completo in assoluto sul tema.
L'indice è piuttosto chiaro: copre tutto, dal planning per l'installazione e la configurazione fino alla manutenzione, 27 capitoli in totale.
Un esempio dell' esperienza diretta di cui parlavo prima è dato dal capitolo a riguardo della pianificazione del deployment: si può leggere persino una stima generica (aderente alla realtà) sui tempi, estremamente utile se non si è propriamente pratici del prodotto nel dettaglio e c'è bisogno di avere un'idea di un eventuale effort per una data attività.
Quindi vale la pena averlo, anche se si ha la versione 2010. Il libro è stato aggiornato con le novità della versione 2012, ed è il caso di averlo se si lavora con Team Foundation Server in un ruolo che non sia quello dell' 'utente'.