Una delle ultime novità per la Kanban Board in VSTS offre la possibilità di abilitare il "live update" per la board, attivabile selezionando una semplice icona a fianco delle impostazioni.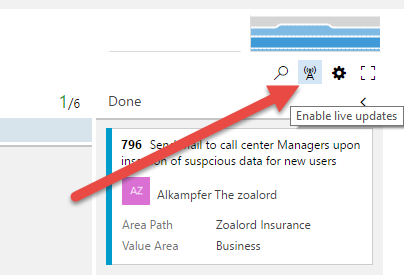 Figure 1: Icon to enable live update to Kanban Board
Una volta abilitata, la board rifletterà in tempo reale ogni cambiamento dei work item che sono rappresentati nella board stessa. Questo significa che modificando o riordinando o cambiando colonna o in generale modificando qualsiasi proprietà di un Work Item da qualsiasi sorgente (web, Visual Studio, Integratione con Excel, etc), i cambiamenti si rifletteranno immediatamente nella board.
Questa possibilità è interessante in accoppiata con la visione in full screen (l'icona a destra dei settaggi), che permette di visualizzare la board a pieno schermo. Questa funzionalità, assieme al Live Update, permette di mettere un monitor o televisione che mostra sempre in tempo reale la situazione della board.
Questa funzionalità è per ora solamente disponibile per VSTS.
Gian Maria.