E' arrivato il momento di vedere il software prodotto, almeno durante l'incontro, purtroppo non possiamo ancora mostrare il tool in questo blog.
L'applicazione web su cui stanno lavorando i ragazzi sta arrivando verso la fine degli sviluppi. Non è così bella da vedere, è molto "developer" ma, da questo sprint, penseremo a come applicare cambiamenti grafici per renderlo gradevole alla commissione di esame.
Ad ogni modo, la review che abbiamo fatto è stata molto interessante. Tutto, o quasi, era funzionante, e l'umore era alto, come si può notare anche da questa foto: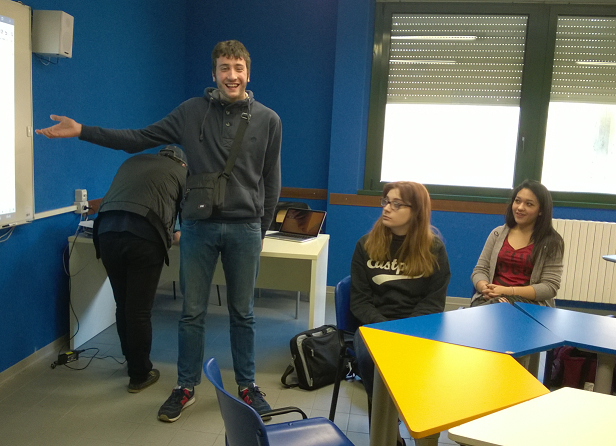 Davide (il ragazzo in piedi davanti alla lavagna) è in posa, lo ammetto. Ma credetemi che l'umore è alto!
Come dicevamo, il software gira, la classe ha scovato ed aggiunto al backlog un paio di importanti bug che verranno presi in carico probabilmente nel prossimo sprint. Purtroppo questi bug sono emersi solo durante la review, il che mostra che il team non ha fatto sufficienti prove durante lo sviluppo o nella fase di test (che forse è proprio mancata). Per mancanza di tempo, purtroppo, non potremo insegnare ai ragazzi l'automazione dei test, e quindi non potremo nemmeno accennare in generale il concetto di integrazione continua, ma ci sta, almeno per ora. Di certo è materiale da retrospettiva.
Alla fine della review, abbiamo affrontato la prima retrospettiva tramite il diagramma Starfish:
"This particular retrospective technique helps people by getting them to reflect on varying degrees of things that they want to bring up, without having it fit into the black or white category of 'What Went Well' or 'Not So Well' so I think it scales a little bit better"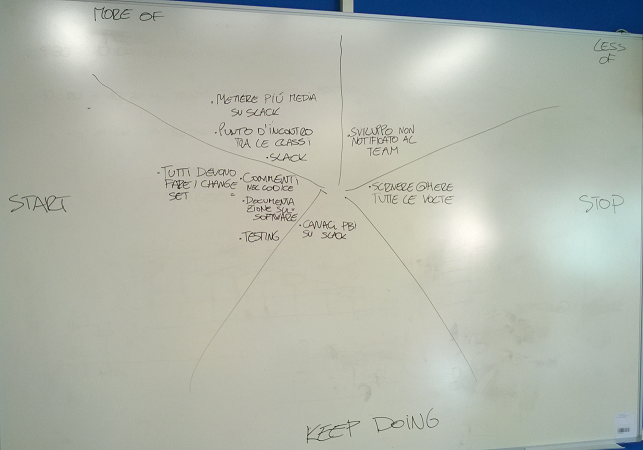 – Start ognuno deve fare il suo changeset ed associarlo al task
– Start commentare il codice
– Start aggiungere documentazione tecnica e funzionale
– Start test funzionali
– More Of upload e pin dei media su slack
– More Of più punto di contatto tra le classi (i ragazzi fanno parte di due classi diverse)
– More Of utilizzo di slack, è comodo
– Less Of lavoro non notificato agli altri
– Stop fare eccessivo rumore con @here e @channel su slack (allertano tutti praticamente)
– Keep Doing canali basati su PBI di VSTS
Gli studenti vedranno l'importanza di questo meeting in qualche giorno, quando i problemi si risolveranno grazie alle azioni intraprese ai fini di non ridurre la produttività del team.
Nel prossimo sprint (che stiamo disegnando) andremo a gestire i seguenti nuovi "tipi" di attività:
Business presentation (vorrei far capire l'importanza di presentare bene un progetto)
Grafica e design (logo, colori, temi, brand, ecc.)
Stay Tuned!