Heart of Agile è la proposta di evoluzione, o forse sarebbe meglio dire di "snellimento", dell'Agile di Alistair Cockburn (tra i firmatari del manifesto stesso), che, come Modern Agile, si focalizza su quattro Elementi principali:
Collaborate
Deliver
Reflect
Improve
rappresentati graficamente attraverso una sorta di "diamante".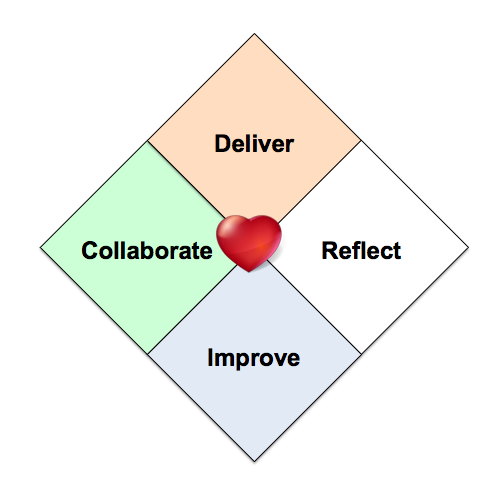 Heart of Agile
Esattamente come Kerievsky, Cockburn esplicita che Heart of Agile non è né un framework né una metodologia, ma non riesce a proporre una definizione chiara, affermando che:
"I think I'll call it 'Do this: collaborate, deliver, reflect, and improve.'"
contribuendo, così, ad acuire quel grado di confusione di cui parlavamo nel primo post della serie.
L'idea di fondo è però ben rappresentata dal "cuore" al centro del diamante, ovvero dal "Kokoro", traduzione della parola in giapponese: tornare al cuore dell'Agile, spogliando quest'ultimo degli "orpelli" e delle "decorazioni" che nel corso degli anni hanno distratto dalla sua essenza.
Ognuno dei quattro elementi può essere espanso secondo la filosofia Shu-Ha-Ri, dettagliando le azioni specifiche con un diverso livello di attuazione e padronanza da parte degli utilizzatori.
È così che il diamante visto in precedenza, rappresentativo della fase "Shu", si espande come segue nella fase "Ha":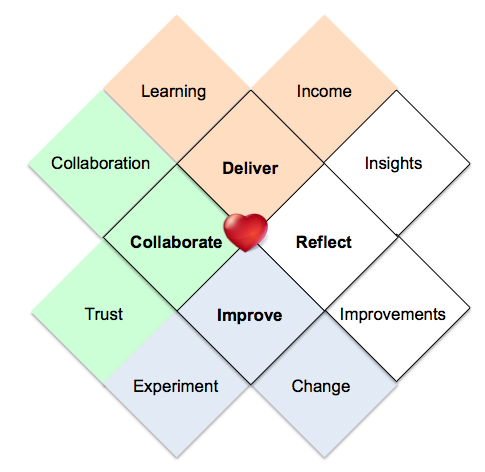 andando ad associare agli Elementi portanti una prima serie di Comportamenti effettivi:
Collaborate: Collaboration e Trust
Deliver: Deliver for Learning e Deliver for Income
Reflect: Reflect for Insights e Reflect for Improvements
Improve: Experiment (remember, it's just an experiment) e Change (actually change)
È importante sottolineare come Cockburn evidenzi che questa non sia l'unica possibile estensione degli Elementi portanti, ma è quella che, nel momento in cui ha dato vita ad Heart of Agile (settembre 2015), meglio rappresentava la sua idea in merito.
Una ulteriore espansione si ha nel momento in cui si passa alla di "Ri"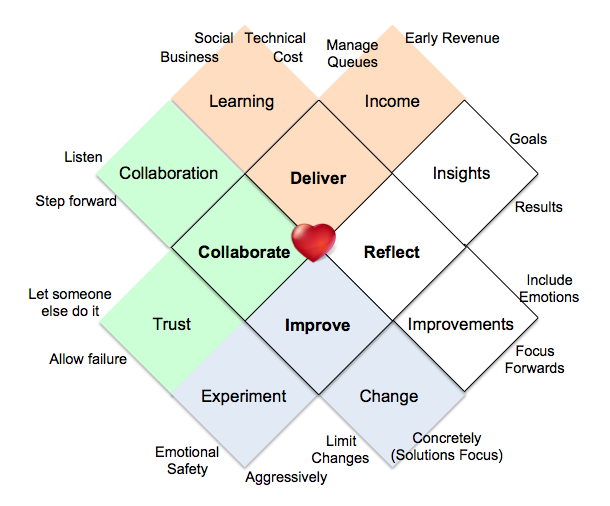 Se vi steste chiedendo in che modo Cockburn abbia scelto i diversi elementi ai diversi livelli, sappiate che il tutto ha preso forma partendo da "Ha", per poi condensare ed estendere tutti gli aspetti relativi e mettere al centro il Kokoro, la cui posizione è dovuta al "Valore nobile da acquisire", raggiungibile solo dopo la fase di "Ri", che consente, a chi lo raggiunge, di operare nel senso più nobile dell'Agile.
Heart of Agile è quindi maggiormente focalizzato sul "tornare alle origini" e ritrovare i Valori che hanno ispirato i firmatari del Manifesto Agile, più che preoccuparsi di come renderlo "moderno" e applicabile in seno alla Business Agility.
Per ora ci salutiamo qui, in attesa del prossimo post dove, provando a fare un confronto di merito tra Modern Agile ed Heart of Agile, cercheremo di fare una serie di considerazioni relative.
Stay tuned J